As the song goes, "If you're gonna play in Texas, you gotta have a fiddle in the band!"
Well, if you're a true custom home builder in Texas, maybe you don't need a fiddle but you sure gotta be able to build a ranch. That's just what we at Will Steed Homes have done and continue to do throughout North Texas from the Red River Valley all the way down to the Texas Hill Country!
From the Hill Country of Texas all the way up the I-35 corridor to Gainesville we have proven that we aren't just another custom home builder but also a ranch builder that can truly innovate and create a ranch complete with the home, barn, front gate, fences, road and even arena! Combine the vision and master craftsmanship of Jack and Will with their client's dreams of owning a horse or cattle ranch and you end up with results that truly exceed other custom home builders.
Don't just take our word for it either. Take a look at what Cliff and Elizabeth Schroeder have to say about their ranch building experience with Will Steed Custom Homes.
"We've built four other homes prior to this and had mixed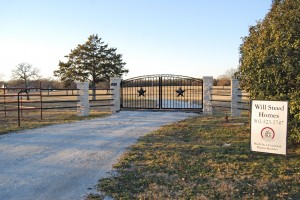 experiences during construction. Building with the Steeds has been the best experience by far. They are fun and easy to work with and very receptive to our ideas. We were especially impressed with the detailed planning and discussion during the design phase which prevented any miscommunication during actual construction of our ranch home. Will, Jack and Gene are men of integrity and followed through on everything they said they would do. They were exceptionally helpful with suggestions for creating that "Wow" factor and also getting the most house and ranch amenities for the dollar. The final result is a beautiful, well-built estate with a timeless design. We couldn't be happier with our new Texas Ranch Home!"
The Schroeder's bought 30 acres of beautiful cross-timbers land just northeast of Gainesville, outside the small rural community of Callisburg. While waiting for the land deal to close, they went looking for the perfect builder for their ranch. After interviewing several other North Texas builders and talking to other North Texas natives in and around the Gainesville and Sherman areas, they received the much needed recommendations that Will Steed Custom Homes were just the guys. The planning commenced and they were able to move into their beautiful home in the Fall of 2013. Here are a couple of photos but more are coming and will appear in our portfolio page of this site soon!

texas ranch home builders