The Steed family can trace their heritage literally back many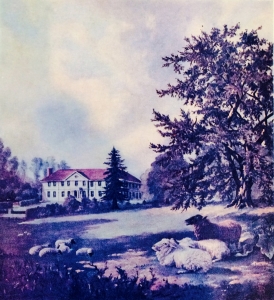 centuries to early England and found within every generation are builders of properties and perhaps, even one medieval castle-fort. But what stands out as a testament to this unique truth is a large country mansion and estate named Steed Manor (pictured).
It was completed in 1587 by Sir William Steed, Knight, the 13th Great Grand-Father Will. Sir William and his wife Cecilia (grandmother) are both buried in the crypt under St. John The Baptist Chapel of the village of Harrietsham in Kent County, England which is southeast of London where the estate is also located. In fact, the Chapel is also known as Steed Chapel and was probably built by the Steed Family as well and even pre-dates the Steed mansion. The Church is still in use today and the silver plate and chalice that was donated by Sir William and Cecilia to be used for communion, is still being used today!
Steed Manor is part of an estate known as Steed Hill and also Steed Court and although the property left the family in 1726, it is still named so in honor of the Steed/Steede/Stede family name who's history in Kent can be traced back to the reign of King Canute in the late 900's. The different spellings of the name have been alternately used over the centuries and all three versions are still in use today.
Steed Manor is a Georgian home with Victorian accents and has walls that are two and three feet thick in some parts of the house. It has eight bedrooms and even an indoor swimming pool. The house was renovated in the 1930's by a man named Robert H. Goodsall who chronicled the renovation in his book entitled "Stede Hill- The Annals of a Kentish Home". In the same book, he also gives a lengthy detail of the Steed Family property and even includes the family tree from the brother's 14th Great Grandfather down to the 9th, Edwyn Steed, who, along with his son John, immigrated to America and settled in Brunswick County, Virginia where they built a plantation.
Today, Steed Manor still stands proudly overlooking the English countryside as a true testament of the Steed Family heritage of "building for the generations". In each of the Steed Brother's custom home projects is sown a proud piece of that heritage!