If you've been searching for a New Custom Home in Highland Ranch Estates Aledo, TX, then you may already know that Aledo is the perfect small town. Recently, they celebrated 50 years of being incorporated but the town was actually established in 1882.
Aledo is Growing!
A few years ago, the town embarked on a major project … the building of a new and modern water treatment plant. With the new water treatment plant complete now, and a new water tower in place, more and more people are moving into the area. Let Will Steed build your new home here. Your family will enjoy living out in the country where the air is fresh and clean and there's plenty of room for horses and other livestock.
Home Building in Aledo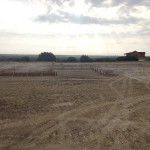 There's so much to do when breaking ground on a new home, especially in a town like Aledo where there may or may not be city services already run to the area. Let Will Steed Homes guide you through this process; it can be fun and rewarding with the right home builder.