Designing and building an accessible home is a journey, one which requires education, patience and compromise. Our goal was to build an affordable one-story lake house that was both beautiful and comfortable for visiting family or friends who are burdened in some way with a disability. As my mom is in a wheelchair, I am sensitive to the needs of those with handicaps and passionate about creating a world in which everyone is able to fully participate. We may need the accommodations as we age as well, and therefore it made good sense to move forward with our plans.
The team at Will Steed Homes worked diligently to help turn our dream into a reality. They shared our vision of creating a home that was both lovely and practical; a place where mom and others could enjoy their surroundings without worrying about how to accomplish the small everyday tasks most people take for granted.
No detail in the house was overlooked. We especially love our twelve foot two level kitchen peninsula, which easily accommodates dining for eight and provides both seating and workspace at different heights depending on one's needs. A wheelchair or two fits nicely under the table height round portion. Shawn Cessna, Will's foreman, came up with this unique and creative design which is as attractive as it is useful. We have an additional free-standing dining table too, but enjoy having everyone seated together for a casual meal.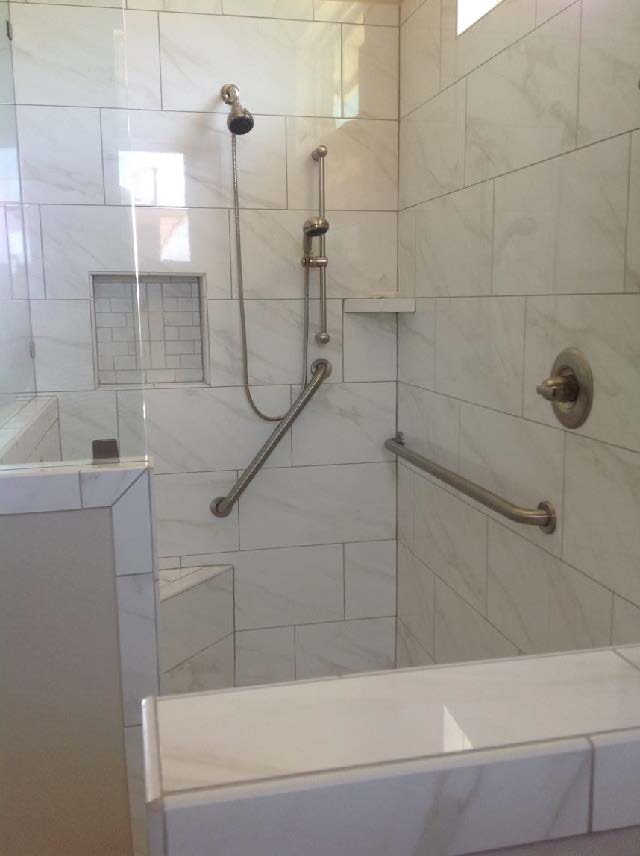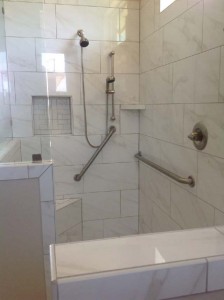 The master bathroom is another masterpiece. It is crisp, clean, gorgeous and incredibly practical for those with special needs. The vanity appears to house two cabinets below the sinks, but the cabinet doors on the left actually open to reveal an area into which a chair can slide. The setup is not ADA compliant, but works well for our situation. The mirror over the vanity will likely not be useful for a person who is sitting so we installed a full length mirror on the left wall.
The ADA compliant seven foot long roll-in shower is beyond fabulous. The glass half-wall gives a light and airy feel while the opaque bottom half provides some privacy. The water is turned on with the knob on the right long before stepping or rolling into it to avoid being scalded if too hot. Two shower faucets are installed on the far wall, one standard height, and one on an adjustable sliding bar that can be taken off to be used as a handheld if desired. Easily accessible towel bars and rings are hanging on the outside of the half-wall.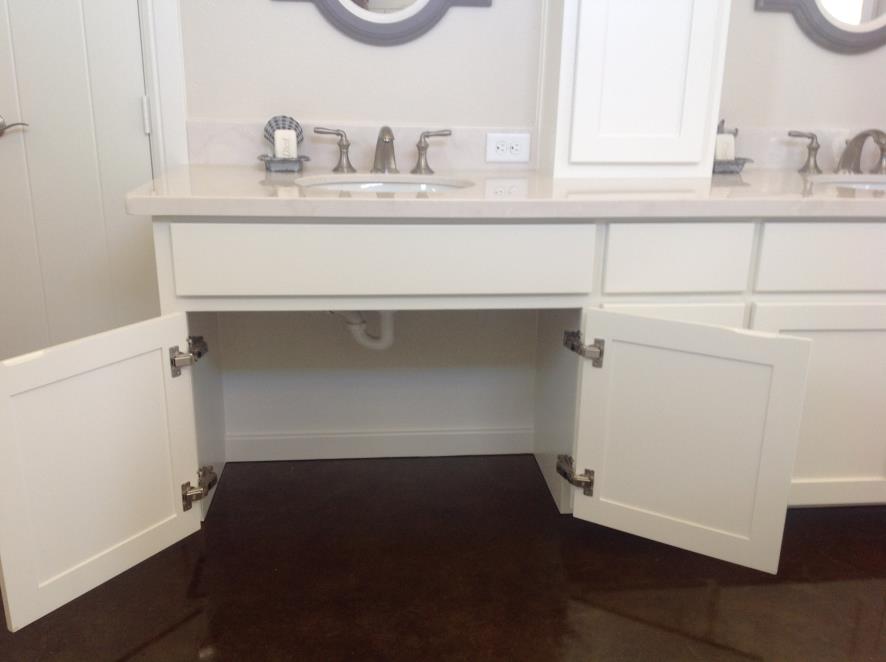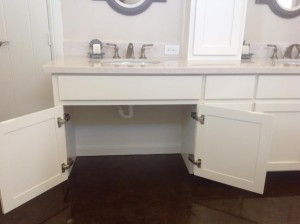 The kitchen and master bath are where we spent most of our time and energy, but we considered a great many other details as well when designing our home. The entryways are flat and wide, eliminating the need for ramps. No steps exist inside or out. The layout of the house is linear to provide clear sight lines. We have excellent lighting and lots of it. "Rocker" type light switches were placed low to be within easy reach for all, and many of the fixtures may be operated by remote. The doors have levers instead of knobs…and the list goes on and on.
Many of the accommodations incorporated into an accessible house are beneficial for all of us, particularly for those with young children. As these adjustments seem almost effortless to incorporate into new home construction, why doesn't everyone do it? Modifications are difficult and expensive when made later to provide for a change in physical abilities.
We adore our new home which exceeded our expectations. Our goal of creating an affordable, accessible and beautiful lake house was accomplished in a timely manner with professionalism, skill and expertise. Thank you Will, Shawn and Shane.