Recently, at Will Steed Homes, we were asked to create a lovely, spacious handicap-accessible bathroom that had a contemporary look and feel. As the population ages, more Americans find themselves in need of services like these. We accepted the challenge and began work on a design for the homeowners. Once we presented the design to them, a few minor adjustments were made, and then we began the work.
As everyone who has ever done any remodeling knows, it can be stressful to have workers in your home making noise. But we made every attempt to organize the project to where the homeowners were not inconvenienced.
Installing a Handicap Accessible Shower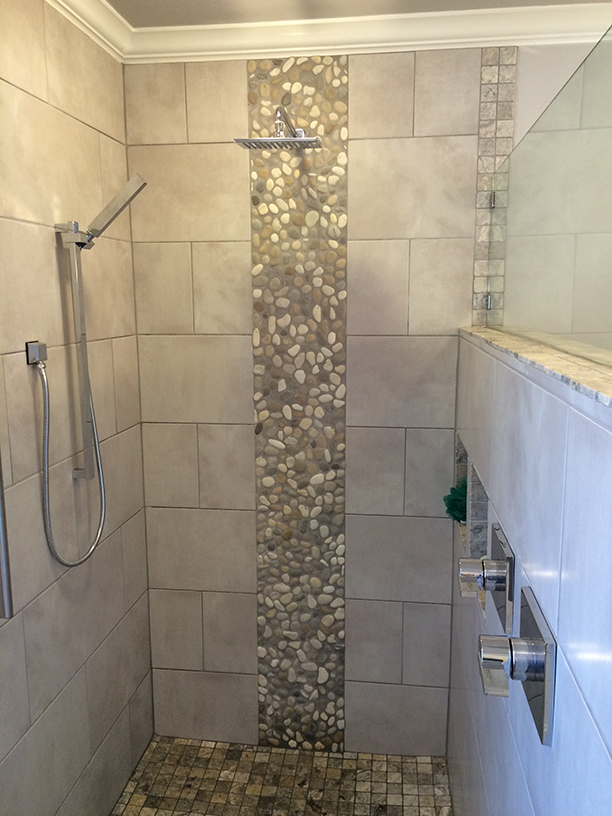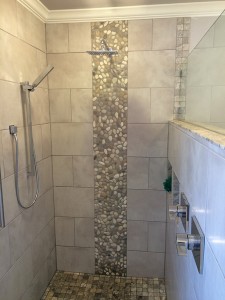 The first thing we did was to remove the master tub to make a large, roll-in shower that would be handicap accessible. The homeowners were not using their tub so this made the perfect place to install a large, comfortable shower. We also installed a glass panel on top of the shower wall that has an EnduroShield coating. For those of you who don't know, EnduroShield is an easy-clean protective coating that creates an ultra-long lasting invisible shield on all glass, tile, grout, stainless steel, and chrome surfaces. It reduces cleaning time by up to 90%. Imagine not having to clean your bathtub or shower near as often.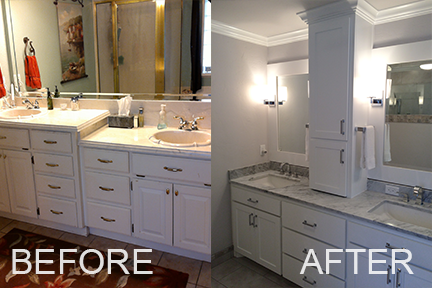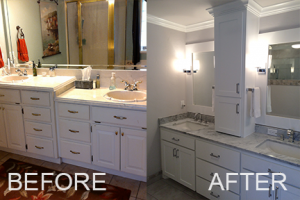 Toilet Room & Vanity
Next we removed the door to the toilet room and widened the opening, so that the area would be easy to get into. When we replaced the vanity, countertops, and mirror, we added some elegant sconces and a linen tower, making this area beautiful and functional. We also widened the closet door and replaced it with a more modern style door. We used a 5-panel Conmore style door. These have an elegant smooth finish and can be painted any color.
Lastly, we replaced the ceiling fan and shower fixtures. We believe the finishing touches are very important so we installed a rainhead shower head with a slide bar and multi-valve controls. This makes for easy, convenient shower controls.
We replaced the splatter drag wall and ceiling texture with a light plaster texture finish. This gave the room a nice light feel, but will be durable and resist moisture, mold, and mildew. We also replaced the wood baseboards with tile for easy cleaning and durability. The results were amazing. The homeowners were very pleased. It was exactly what they were looking for: beautiful, functional, and contemporary.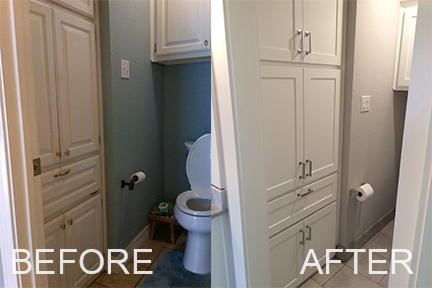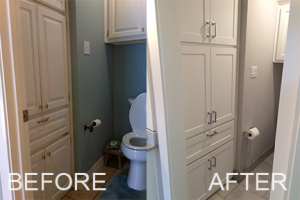 Will Steed Homes has been building and remodeling amazing custom homes for many years. We can handle any type of remodel or addition including sheds, tool rooms, barns, and outbuildings. We've even built airplane hangars for those who own a private plane. Our company is known for its attention to detail and for its excellent craftsmanship. We work with the very best craftsmen to ensure that every finish is perfect. Why not call us to discuss an add-on, such as a garden room or enclosed patio?